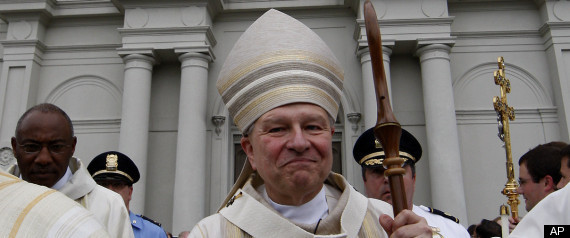 According to
Catholic News Agency
, Catholic Archbishop
Gregory Aymond
of New Orleans
applauds the recent marriage ruling
while committing to an LGBT ministry. Following Judge Martin Feldman's September 3 decision upholding the state's same-sex marriage ban, the archbishop reportedly said:
The redefinition of marriage is a moral one for us as Catholics … We as Catholics believe marriage is defined in the Bible and through our Catholic Church teaching as a union between a man and a woman.
The beliefs of the Church regarding marriage are not at issue so much as the fact that the Church is actively involved in the political process. It has a proxy in National Organization for Marriage which it helps to enable. Aside from support the Church bestows credibility on NOM which operates as an anti-gay hate group. Particularly as a tax exempt organization the Church should confine its teachings to adherents, removing itself from attempting to influence public policy.
Aymond continues:
It is my hope that through our pastoral ministry to the Catholic LGBT community we can minister to their spiritual needs and walk with them through their life journeys because as our brothers and sisters and children of God they must be loved and respected and always treated with dignity.
Pastoral ministry? The official position of the Church is to "treat" homosexuality with
12-step pseudo-science
. Sexual orientation is not a bad habit. Gay people are not ill. They do not require treatment.
More importantly, then
Cardinal Ratzinger
, in his
Letter to the Bishops on the Pastoral Care of Homosexuals
, claims:
Although the particular inclination of the homosexual person is not a sin, it is a more or less strong tendency ordered toward an

intrinsic moral evil

; and thus the inclination itself must be seen as an

objective disorder

.
Aymond is is no position to minister to gay people if he accepts those precepts. Calling it love does not make it so. The Church's position is based on ignorance and hate. Ratzinger, in his
treatise on (and disapproval of) same-sex unions
, also asserts:
Allowing children to be adopted by persons living in such [same-sex] unions would actually mean

doing violence to these children

, in the sense that their condition of dependency would be used to place them in an environment that is not conducive to their full human development.
Considering those
two unsupportable doctrinal statements
, the Church is not prepared to treat gay people with love and respect. Furthermore, treating people with dignity should not include the idea that a group is objectively disordered. It certainly should not impose the label of doing violence to children.
Pedophile priests do violence to children; Gay couples do not
. How is Ratzinger's statement received by the many children who are already being raised by gay couple
s?
The statement is false and
defamatory per se
. The man who became Pope Benedict XVI was extremely influential at the Vatican for more than a quarter century. Yet, the future Pope was a theologian and a catechist. His education did not include extensive studies in either sociology or psychology.
Therefore, Archbishop Aymond's statements are disconnected from any real-world understanding of LGBT people. Religious doctrine need not be consistent with secular science. However, the science cannot be frivolously dismissed and then ignored when the competing beliefs do real harm to people.
Aymond has some serious soul searching to do before he can talk about love dignity and respect in relation to the LGBT community. Unfortunately statements like these affect how LGBT fellow citizens are treated. They also affect how those same citizens feel about themselves.